2002 Ecorse Regatta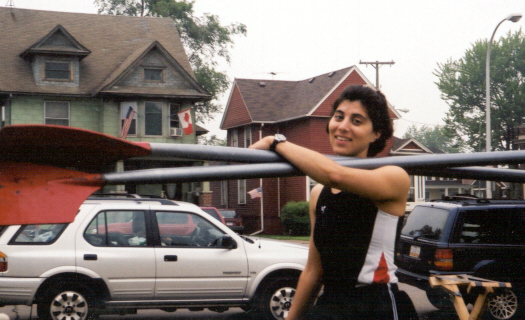 Cathy heading down to the docks.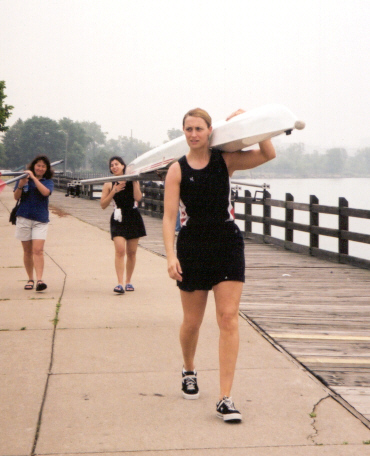 Christine and Cathy transporting the double to the docks with Graciella helping with the blades.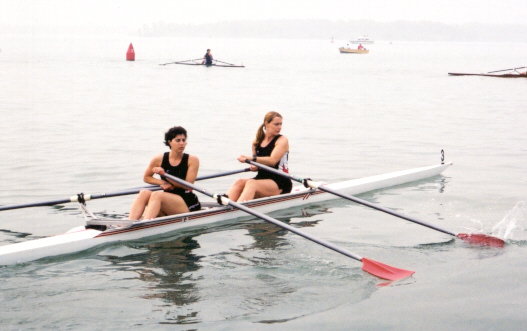 Launching and off to the races. Excellent showing for the womens doubles.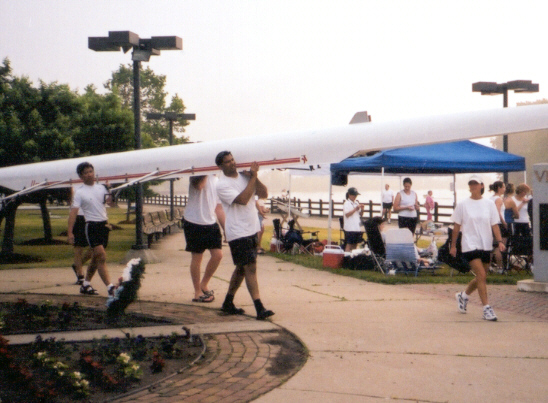 Open Mens 4+. The first race for everyone in the crew.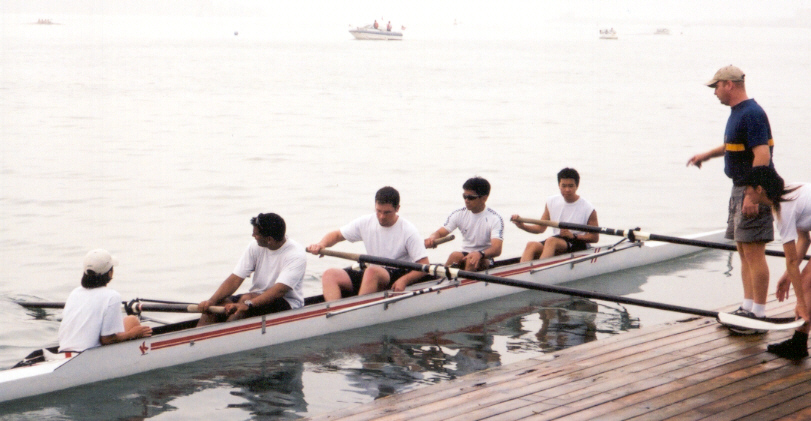 Shealagh(cox), Vivek(stroke), Dustin, Rex, & David.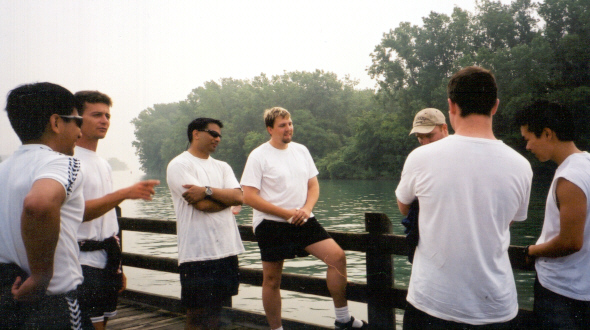 Post race pep talk. Even with catching two crabs, a seat coming off the rails and a foot coming out of the shoe, the crew didn't give up.
Everyone pulled hard. It was a great learning experience!

Excited to be at the regatta: Neal, Rachel, Anne-Marie, Kristen, Katherine, Kristine, Sonja, Monique, Glenn, Graciella & old man John.
Special thanks to John for helping out every crew, even though he couldn't race due to a bad back(he could only stand as pictured).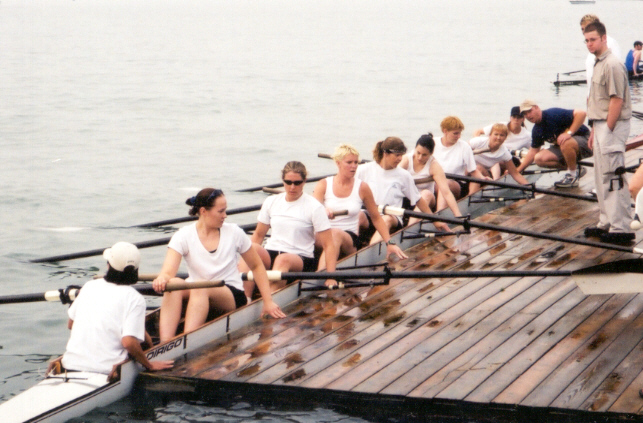 Shoving off: Shealagh(cox), Monique(stroke), Kristen, Sonja, Kristine, Anne-Marie, Rachel, Katherine & Richelle.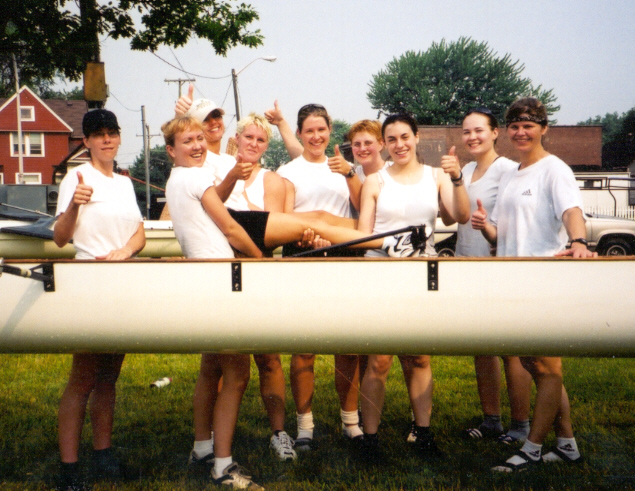 "Born at sea and baptized in VICTORY!" Womens Rec 8+ victorious in their first race.
Outstanding race, as the crew rowed through the competition in the last 500m!
Way to go ladies!!!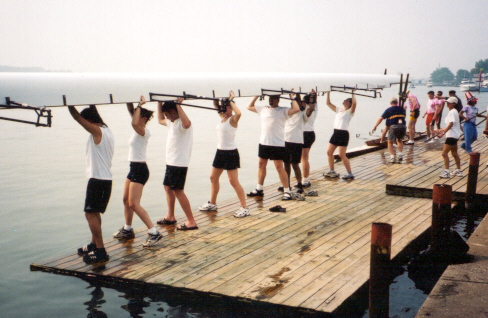 Mixed 8+ toeing the edge.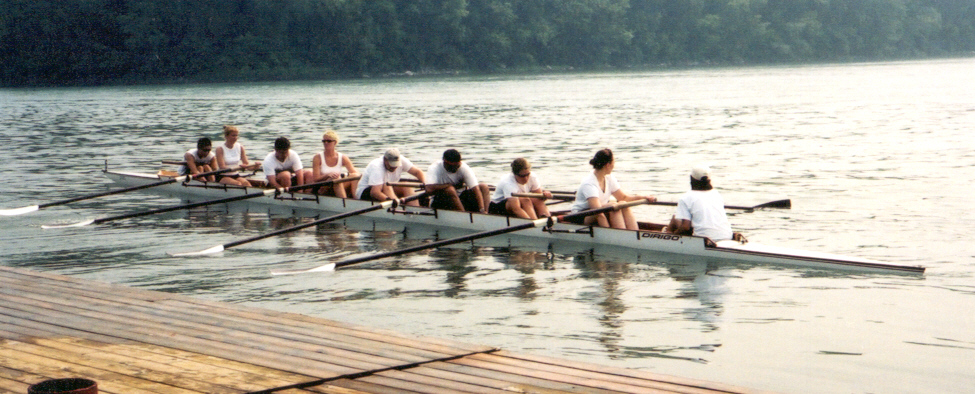 Still on a high after winning the womens rec 8+, four of the women jumped in with the men and rowed to second place finish!
After a disappointing first race, the men came back with a vengence. Combining the men's determination and the women's high, helped power the crew
to a fantastic result!
Mixed 8+: Shealagh(cox), Monique(stroke), Kristen, Vivek, Neal, Sonja, Dustin, Katherine & David.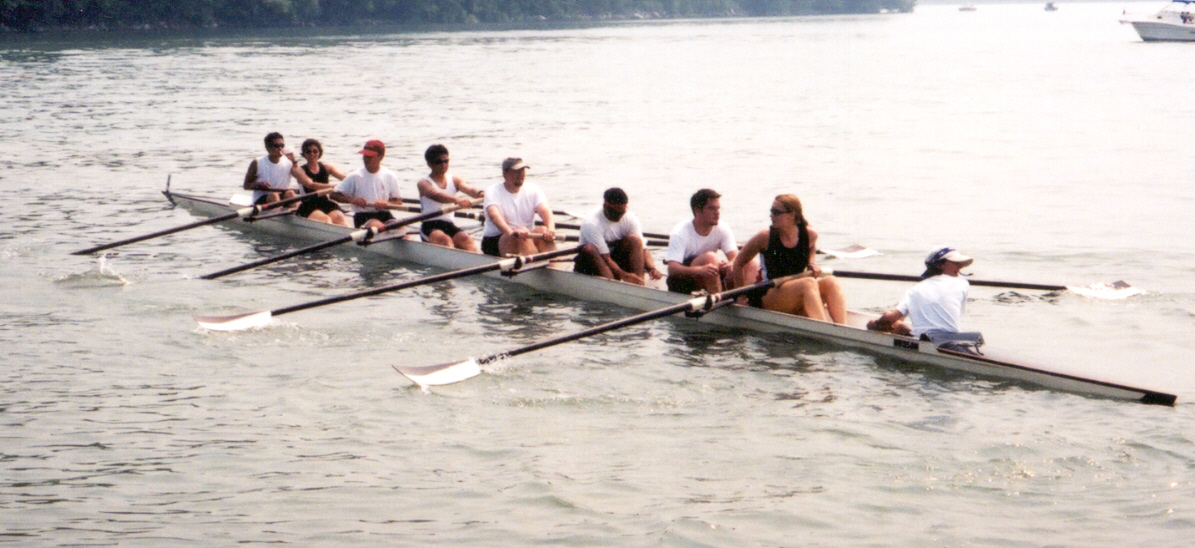 Special thanks to Christine and Cathy for filling in. Without them, we couldn't have rowed.
Some of the other competing crews were surprised to see larger than normal breasts in the boat!
Mens 8+: Shealagh(cox), Christine(stroke), Dustin, Vivek, Neal, Rex, Glenn, Cathy & David.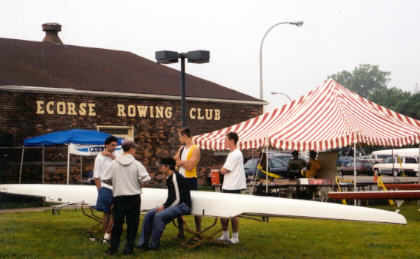 Special thanks to Kathy O'Brien for coming out, taking pictures and supporting the crews.
A great big THANKS to everyone that came out and cheered us on!
We could hear all of you as we rowed and it inspired us to row that much harder.
See you in Grand Rapids, July 13.


2002 Learn-to-Row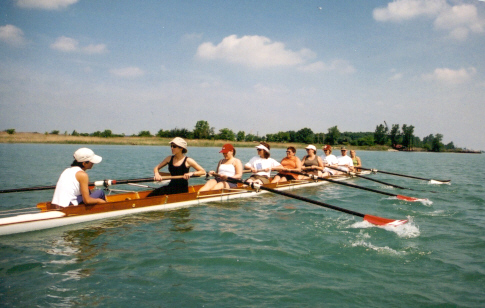 First day on the water for the new learn to rows.

Bethany, Elaine, Brad and Coralee as bow four.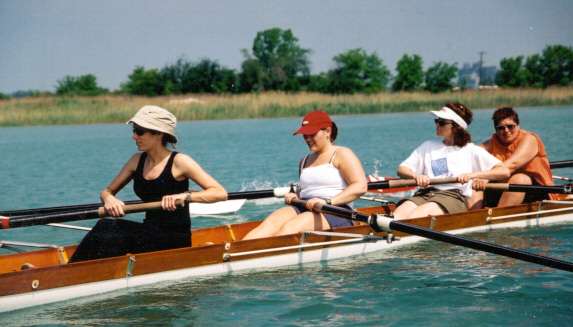 Lindsay, Jen, Margaret and Paula as stern four.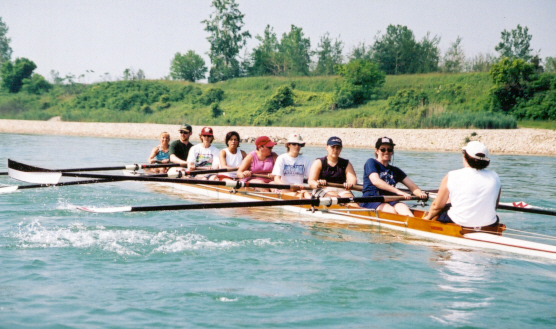 Braving the heat on the second day on the water.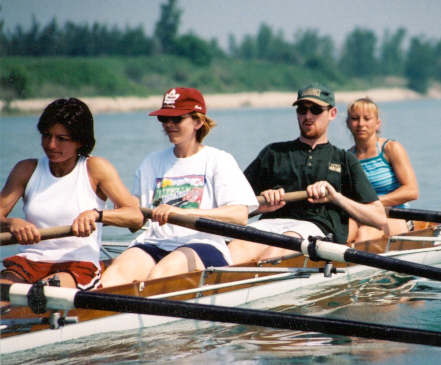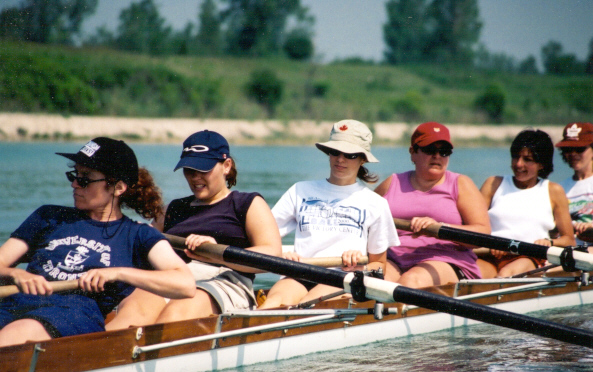 Congratulations to all who graduated the Learn-to-row program this spring season.
See you on the water!